So, you know what you need to start a podcast but you're on a strict budget? Not a problem! You don't need to break the bank to start a quality podcast, and in this post we'll prove it! 
Today, we'll be exploring the podcast essentials available to you while sticking to a tight budget of $500 (or less). We'll cover everything you'll need to start producing and publishing your episodes, all within these budgetary limitations, and guide you on how to do the same!
First, Some Considerations
Before we begin, there are a few questions we need to answer. Keep this information handy from the start to better understand what you need to launch your podcast.
1. How many people do you plan to be recording in the studio?
When you're planning on hosting a show, the studio space must have enough equipment for everyone who will be appearing. For instance, If you have one host and one in-studio guest, you'll need two mics, two pairs of headphones, and a recording device with multiple channel options. Make sure you're planning for the maximum number of guests you'll need to record.
2. Do you plan on recording your guests remotely?
You don't necessarily need any additional equipment for remote recording. Still, you will want to invest in software and online platforms that allow high-quality recordings uploaded into the cloud so you can access them anywhere.
3. Will you be recording onsite at industry events?
If you are planning on recording your episodes on-site at industry events, you'll need to consider using portable digital recorders that allow users incredible portability while still capturing high-quality audio.
With these considerations in mind, for the following example, we will assume that we are one host, recording guests remotely via the internet from within our office regularly. (We'll provide some bonus items at the end if you fall into some of the other categories!)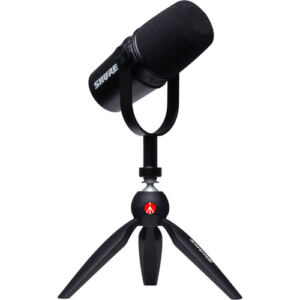 If you've read our previous blog on podcast essentials, you know by now that there are several different microphone types to choose from. For our goal of staying under budget and keeping it easy, we will go with a USB microphone.
Let's check out this Shure MV7 USB Podcast Microphone & Stand. Shure is a legend in the audio industry and has created some of the best broadcasting mics available (here's looking at you SM7B). And while the SM7B may be an industry standard, this MV7 is a great budget substitution. They even look alike!
It's a dynamic microphone which, as you know, we prefer for podcasting!

USB and XLR operation allows you to use the mic with a mixer or plug it directly into your computer.

It has sound isolation technology built right in, which helps reject background noise.

The desktop stand turns any table into your studio!

It comes with a proprietary app that allows you to customize even further.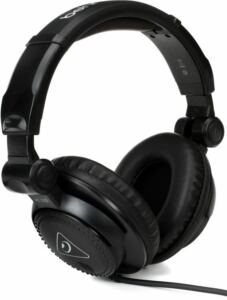 Technically this can be free as you can pretty much use any pair of headphones you have lying around. But if you don't have a pair handy, you can get some great-sounding cans for under $20, which will sound just as good even if they aren't fancy!
For example, here is a pair of Behringer HC200 Closed-back DJ Headphones. They are affordable and can get the job done with:
A closed-back design isolates the audio so you don't get sound bleeding into your microphone.

Soft ear cups and adjustable headbands are comfortable to wear for longer sessions.

Reversible, rotatable, and collapsible ear cups accommodate all monitoring styles.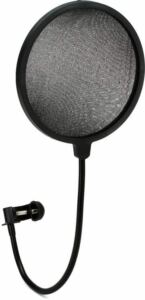 A Pop Filter will protect against any plosives in your vocal recordings. What's a plosive you might ask? It's when we make "P" or other hard-consonant sounds and overload the mic with air from our mouths. This can get very distracting during your podcast episodes.
This Rok-It Nylon Pop Filter gets the job done and is at the right price point. It can help you control plosives, reducing and even eliminating them. The easy-to-mount filter is made from durable nylon and features an 11.5″ gooseneck design with a clamp, making it easy to place it in the perfect position. Clip it onto your mic stand and you're good to go!
Recording Platform / Digital Audio Workstation (DAW) - $0.00
You read that right! You can find an industry standard for free! 
Audacity is a free, open-source platform that allows you to record and edit digital audio right on your computer! It also has all the features you'd expect in a professional recording studio:
Audacity can record live audio through a microphone or mixer or digitize recordings from other media.

Import, edit and combine sound files. Export your recordings in many different file formats, including multiple files at once.

It's easy to use with a great user interface and is widely available on all platforms!
Online Meeting Space - $0.00
While Audacity will record you (the host), you'll need a way to record your guests! Luckily, this can be free too! But there will be some limitations.
For example, you can set up a Zoom account for free! Zoom offers a number of features for voice and video recording where you can capture conversations and upload them right to the cloud in real-time! However, there's a 40-minute time limit per call. 
This means you'll need to watch the clock when recording your podcast episode!
Podcast Hosting - $120/year
Once you record your episode, you'll need a place to publish it! A podcast host will publish and distribute your podcast to all the popular platforms like Spotify and iTunes. 
While we offer competitive hosting that's packaged with some of our production plans, you can find hosting for as low as $10 a month!
For example, Podbean is a great option that offers:
An intuitive interface makes publishing a podcast as simple as a few clicks.

Unlimited Audio & Video Hosting with flat rate, affordable plans for worry-free podcasting.

Podbean includes a free podcast website with your account. Choose from various professional themes that you can customize to fit your needs.

Convenient publishing on your timetable. Upload your audio and schedule episodes to post at designated times.
As we promised, above is a shopping list of all the tools and platforms you need to start a podcast for under $500. You even have a bit of budget left over to add a few more accessories like extra mic clips or equipment cases to help protect your gear!
We also promised a few honorable mentions. If you want to add a little bit more cost to take your podcasting aspirations to the next level, here are some options you can look into if you're willing to spend a bit more money!
1. Portable Digital Audio Recorder:
2. Online Virtual HD Recording:
There are unique tools like Riverside on the market that act as your online podcast studio. You can record industry-quality audio and video in one platform, all in the Cloud!
If you want to take the next step to up your audio editing game, you'll need some of the best audio software in the industry. And while Mac users have access to Logic Pro, Adobe Audition is available for both Mac & PC users alike!
I hope this blog proves that anyone can start a podcast, even on a bare-bones budget. In fact, we recommend it! Podcasting is a commitment, so starting small and upgrading your setup over time as your podcast grows is a wise decision. 
If you're thinking of splurging a bit more on any of these items, we would have to recommend it be the microphone, as it will have the most significant impact on your overall sound. The better the source sound, the better the final result.
Want to talk more about your podcast goals? Feel free to reach out with any questions!
Until next time…